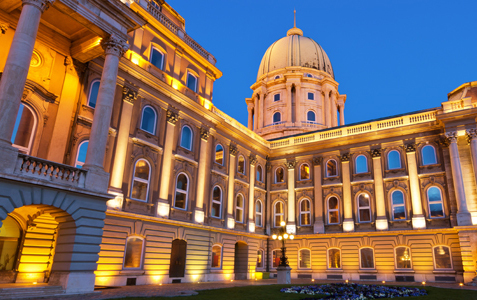 Tanks flooding the streets, a big red star broken off the top of the Tunnel and Chain Bridge blowing up right in front of you – history seems to be unfolding before your very eyes. Thanks to a unique new VR tour, you can now take a trip back in time and explore the eventful past of Budapest's most historic neighbourhood and World Heritage Site, the Castle District. Battles, sieges, wars, revolts and terror are all brought back to life – you just need to don the goggles.
Beautiful Budapest is one of the most attractive destinations in Europe, but an awful lot has happened here since Hungarians settled in the Carpathian Basin. A new VR tour now guides you through the seven most important eras of Hungarian history, from the 13th century to the 1956 Revolution, so that you can relive it all first-hand.
You begin the tour at the office on Lánchíd utca, where you get your goggles with audio guides in English, German and Hungarian. Someone then takes you around the Castle District and back in history at the same time, through war and peace.
While you walk, you can listen to highly informative stories about Hungarian history. When you stop and put your goggles on, you travel back in time to watch it all happen right where you're standing. Sometimes the walls crumble beneath you, or you find yourself in the middle of a battle, but worry not, in reality you're safe and sound with a guide watching over the group at all times.
Standing right where it all happened is a special experience – often you'll be delighted to take your goggles off and find beautiful Budapest still there in its full pomp. And the greatest thing about it is that the VR experience is designed in such a way that the buildings and scenes are at the exact spot whether your goggles are on or off, just at different moments in time.
Note that the technology is not always the most cutting-edge and the guides are not historians, but a lot of effort has been put into in this experience, and reliving Hungary's sorrowful past right where it all happened puts everything into perspective. So if you're up for something a little different from the standard sightseeing tour, this VR trip is definitely something to consider for the whole family.
source: https://welovebudapest.com/2019/06/05/unique-vr-tour-of-budapests-castle-district-brings-history-to-life/